Date: Wednesday, March 19, 2014
There is an easy way that you can save money on your overall lubrication and maintenance expenditure.Keeping your oil in pristine condition is the key to reducing wear and extending oil life which is as simple as fitting an oil centrifuge to your engine to purify the contaminated oil while ever the engine is running. The oil centrifuge removes contamination particles which are denser than the oil and so does not affect the additives. Utilising the oil driven centrifuge means that the cleanliness levels in your engine are much higher than would be possible through using just a filter element. A filter element is limited to a specific size rating and particles smaller than the pore size (typically 30um in engine filter elements) are not removed and remain inside the engine causing scarring and wear on the system while it is operating. Conversely the oil centrifuge removes contamination particles to submicron sizes and never needs to be replaced.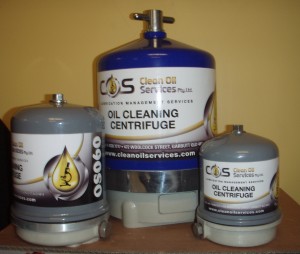 Many businesses are still locked into the traditional practice of changing oil at the recommended hours/distance and would realise many benefits through this one change to their maintenance procedures.
With improvements in fuel quality, (low sulphur) and combustion efficiency, the technologically advanced oil in use today could potentially remain in service indefinitely which is a huge savings when you think in terms of :
Machine downtime
Cost of lubricants
Cost of filter elements
Cost of waste oil disposal
Servicing costs
Potential harm to the environment
Using an oil centrifuge is the most economical way to keep your oil clean. There are no expensive elements to replace; simply wash the accumulated sludge from the rotor bowl and continue on.
The additional benefit of using an oil centrifuge is that the cleanliness levels maintained throughout the whole system due to the continual removal of any contamination increase the life of the compartment by decreasing wear levels.
Oil centrifuges work particularly well when permanently mounted on engines but can be utilised in the same way to filter the oil on many other compartments e.g. final drives, hydraulics, transmissions and gear boxes.
Centrifuges come in a variety of sizes and can be used in conjunction with other oil purification devices including vacuum dehydration; this depends on what the specific contamination issues are.
It is essential that oil purification is performed as part of an overall maintenance package that includes a proactive oil analysis program so that the oil condition can be monitored to eliminate any risk to the equipment. This process requires expert knowledge and the professionals at Clean Oil Services can assist you with the right information and advice.
If you would like further information on how a centrifuge can make your oil last indefinitely call today on +61 7 4728 7777 or email bob@cleanoilservices.com.
Category: Oil Cleaning