Transformer Oil Conditioning
Lubemaster & Transformer Oil Conditioning
Lubemaster is enjoying success in the transformer oil cleaning business; in fact we have developed a process which utilises the Lubemaster in conjunction with our Fullers Earth system which allows for the total cleaning of transformer oil regardless of its original condition.
Once the PCB content has been checked and found to be below limits, Lubemaster can do the rest, firstly by removing particles with centrifuge filtration, then reducing moisture levels to 6 to 12 ppm by vacuum dehydration which also degasses the oil as it goes.
Then our Fullers Earth attachment will reduce acid to very low levels and where there are no PCB's can completely eliminate the need to dispose of transformer oil in all instances.
Where very old oil is being restored, an anti-oxidant additive can be added to the oil to restore anti-oxidation values.
Disposing of used transformer oil is now a thing of the past, Dielectric strength will be restored to top end numbers (around 78+ mV) and colour restoration is made simple by Fullers Earth which filters to 1µm and will restore a dirty brown acidic oil to a nice light amber with acid levels usually below 0.03 mgKOH/gm.
With our OS1200 unit, flow rates of 140 lpm (36 gal/min) or 8,400 litres per hour (2,220 gals per hour), downtimes are really reduced for servicing large transformers. This unit is fully mobile and can be built onto its own trailer or dedicated truck for transport.
Many heater options are also available depending on the customers power supply.
Of course for the smaller transformers and in workshops, we may not need the high flow so we revert to our standard OS600 at 70 lpm (18 gpm). These machines are proving very useful in the small to medium transformer repair shops.
Next time you think about calling the recyclers to dispose of that transformer oil, think about our transformer oil cleaning systems – we will even come and clean it for you – How is that for an environmental saviour.
All of Clean Oil Services service and equipment are built with environmental friendly considerations in mind.
See "What our Clients have to say" for some results of field trials.
Lubemaster OS1200 Transformer Oil Conditioning Unit
The Lubemaster OS1200 transformer oil conditioning unit has a dual centrifuge, variable flow to 8,400 litres per hour, 3 stage 50 kW heater, 1,000 litre holding tank, electronic flow selection and is fully transportable available either with or without its own dedicated trailer.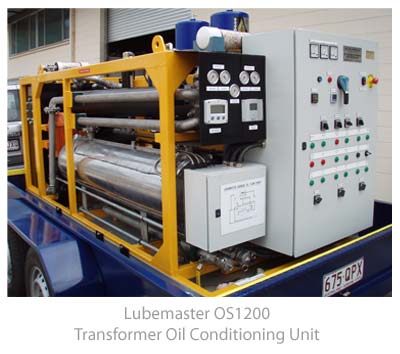 Thermal efficiency has been enhanced by fitting a unique heat exchanger which passes the heated returning oil past the cooler incoming oil, transferring energy as the oil flows.

Lubemaster transformer oil conditioning equipment is available with the optional Fullers Earth attachment to reduce acid levels and fully restore the condition of transformer fluid.
Dielectric tests to 75mV are commonly achieved.

2 Models are available with flows of our OS600 at 4,200 litres per hour or the OS1200 which has an infinitely variable flow to 8,400 litres per hour.

Clean Oil Services have the oil solution for your equipment – please click here to contact us for more info on Lubemaster and our low cost options to reducing oil contamination and extending your oil life.
Heat Transfer and Transformer oil management forms an integral part of the suit of services offered by Clean Oil Services Pty Ltd. Management of transformer oils is critical to the long term operation of all oil cooled transformers. Build up of moisture and gases can have a devastating effect on the life and operation of the transformer; in fact if left unchecked, can cause the transformer to explode with dire consequences.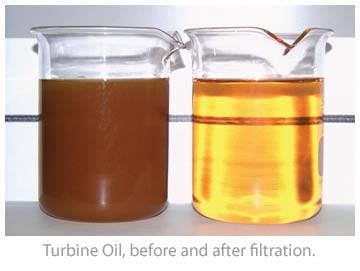 Clean Oil Services offer PCB testing, Dissolved Gas analysis and oil condition monitoring for insulating oils, with a recommendation that these tests are carried out at a minimum of every 12 months and preferably 6 monthly. This allows for accurate determination and monitoring of the gas trends to detect problems before they become apparent and cause expensive unscheduled transformer shutdown. Prior to testing of any transformer oil, proof of PCB content must be provided or PCB test carried out with levels proven to be below the levels approved by the appropriate regulatory authority. Treatment cannot proceed until these tests have been proven.
In the event of a failed DGA (Dissolved Gas Analysis) or high moisture result, Clean Oil Services have the equipment and provide the service to dehydrate and degas the suspect oil without total removal from the transformer.
Our Lubemaster OS1200 provides flow rate of up to 8,400 litres per hour and will dehydrate to 6ppm whereas our smaller OS600 will give flow rates at 4,200 litres per hour. Both units use centrifuge technology coupled with Vacuum dehydration to provide the optimum return in oil condition. Our unique oil return system prevents gas build up entering the transformer by degassing the return oil by vacuum gas extraction.
The large heater on the Lubemaster ensures that the windings are heated throughout the operation, enabling movement of oil within the coils so as to cause the entrapped gases to be released.
In cases where the insulating fluid has been contaminated with carbon from arcing of tapchangers, or elevated Acid Numbers have been detected, Lubemaster has an optional Fullers Earth attachment which will provide the optimum in insulating oil treatment and in almost all cases will restore the oil to pristine condition.
Lubemaster has been proven to take dielectric strength from 22Kv to 72Kv over a 12 hour filter period on a 22,000 ltr transformer.
With Lubemaster treatment and Fullers Earth, there is rarely a need to dispose of transformer oil – there are very few situations where it is not fully recoverable to very close to new condition.
Clean Oil Services have Lubemaster units available for hire and will custom build equipment for specific applications at a customer's request. Please contact us for further information.
As part of our commitment to oil management, Lubemaster also manufacture a range of specialised oil transfer equipment. Designed specifically with the transformer industry in mind, our OS Transfer pumps are built with several unique features:
Large flow volumes to 150 lpm
Variable speed drive so that flow can be controlled infinitely to 150 lpm
1um final filter
Pump reverse feature to enable back flow
Remote start/stop, speed and forward/reverse control on 20 mtr lead
Single phase power supply
Portable 'trolley' style on 2 solid rubber wheels
Solenoid fluid shut off at oil delivery to prevent backflow when power is cut
Get a Quote to Buy or Rent