Awards
Clean Oil Services Pty Ltd achieves success as a finalist in the 2012 Premier's Sustainability Awards.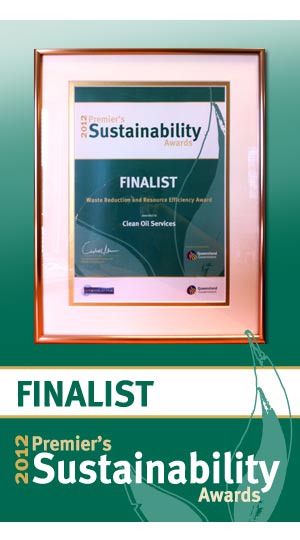 The winners were announced at the gala dinner at the Brisbane Convention Centre on 8th June, 2012.
The purpose of the awards is to recognise individuals and organisations that show vision, innovative thinking and the ability to bring about behavioural changes.
There were 11 award categories with more than 130 entrants. Clean Oil Services entered into the category for Waste Reduction and Resource Efficiency, featuring it's innovative Lubemaster Oil Cleaning & Filtration equipment supported by its pro-active Oil Analysis and Condition Monitoring service, together which provide a safe and economical alternative to changing and disposing of used oil.
"Oil starts as a dirty mass – we clean it then we make it dirty through use – then we throw it away… why don't we simply clean it again ? Our goal is to revolutionise the old and traditional way in which we manage lubrication… Instead of disposing of this valuable resource which still has useful life left and buying more new oil to replace it, our cost-effective and innovative Lubemaster Oil Cleaning Equipment can keep the oil in a good operating condition and extend its life substantially or even indefinitely, resulting in a considerable savings in lubrication & maintenance expenditure and a reduced environmental impact. We can now take this even further with a diesel burnback system which means zero waste oil – cleaning the waste oil suitable for use as a diesel dilutant and reducing the cost of diesel fuel with each litre of waste oil added."
The Queensland Government is keen to promote innovation in waste management and resource recovery. Many companies are overhauling practices and changing attitudes to traditional waste operations, and these awards showcase the work of these technical and commercial leaders.
Trailblazers can show how other businesses can adapt and improve, regardless of which sector they operate in. Decisively revaluing production, handling and disposal of waste reaps benefits for both the environment and the commercial sustainability of vital Queensland companies.
Further information on Lubemaster Oil Cleaning & Filtration can be found by clicking here.

Clean Oil Services is recognised as a finalist at the 2012 Premier's Awards for the revolutionary Lubemaster equipment, which is supported by an oil cleaning, oil filtration, oil analysis and condition monitoring service plus a diesel burnback system for zero waste oil.



Centrifuge oil cleaning technology an award winner
Clean Oil Services Pty Ltd wins award at the Australian Clean Technologies Ideas Competition
The Australian Cleantech Ideas Competition was launched to find the nation's most innovative ideas and to support the innovators in taking their ideas to the market.
Their mission was to foster companies with big ideas that address today's most urgent challenges of climate change and sustainability.

Clean Oil Services was among 11 finalists shortlisted from entries received from all over Australia. The finalists made a five minute video presentation for the Judges that was uploaded to YouTube. The entrants were competing for the opportunity to compete at the global competition held in San Francisco on November 11-12 and to receive at least $100,000 worth of start-up services.
Director Robyn Smith presented the Lubemaster Oil Filtration Unit, utilising centrifuge technology coupled with vacuum dehydration and providing ongoing cleaning of oil in a far more efficient way than standard pore membrane filters.
Some of the winning features of the Lubemaster include its ability to clean all grades of oil at full flow rates, clean oil while the host machine continues operating, and no requirement for expensive filter elements. This Australian innovation is environment friendly and guarantees to cut lubrication costs.
Clean Oil Services Pty Ltd was announced 3rd place winner by James O'Loghlin from the New Inventors at the Awards Dinner held in Sydney on 6th October.
"We are delighted to be named one of the winners of the Australian Clean Tech Ideas Competition," said Robyn Smith. "It is fantastic to get recognition at this level for the Lubemaster Oil Cleaning system and to gain valuable exposure in the market place."Click here to view further information on the Lubemaster Oil Cleaning Unit >>