Centrifuges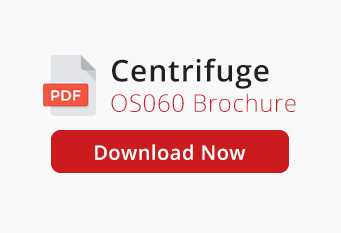 The oil driven centrifuge is one of the most reliable and economical oil cleaning technologies in the industry.
Are you throwing away perfectly good oil because of worries about contamination? There is a smarter solution….enabling you to minimise your lube expenditure while maintaining optimal operating conditions for your machine by cleaning your oil with a centrifuge.

COS offers you a way to constantly remove impurities from your oil while the machine is running. The result is oil you can use for longer with no machine downtime for oil changes. The oil centrifuge offers a highly effective fleet solution to reduce running costs. Originally designed for engines, its use has expanded to all types of applications that require contamination control.

Oil Centrifuge Filtration is renowned for maintaining pristine lubricant condition by constantly removing the soot and other contamination particles as the engine operates, thus maintaining a much cleaner condition than can be achieved by normal filtration.

How Oil Centrifuge Filtration Works
Oil circulates from your machine into the centrifuge in a dialysis system. Inside the centrifuge, an oil driven rotor spins at high speeds of up to 7000 rpm. The resulting gravitational force draws any particles outwards while the purified oil passes back into your machinery. This way, soot and other contaminants are continually removed during normal engine operation. You then remove the contamination when you periodically clean the rotor.

The dirt holding capacity of the rotor is well beyond that of a comparable sized element with the rotor being washable and re-usable – less taxing on the environment by reducing land fill. While the centrifuge is not a filter, it is not limited to the same integrity size rating as a filter element. This means it can remove particles to sub micron levels. On the other hand it is ineffective at start up until the fluid has warmed and the rotor has reached high speed.

The centrifuge creates gravitational forces within the rotor which cause the more dense contamination particles to migrate to the outer perimeters of the rotor shell. As the oil's return path is toward the centre of the rotor, where the 'G' forces are less, the particles remain trapped in the high 'G' area where they are removed at a later date when the rotor is cleaned.

For the particle to be removed, it must be denser than the flowing oil. Consequently the additive package of the oil will not be affected unless it too is denser than the rest of the lubricant. If this were the case, the additives would settle on standing which would be detrimental to the quality of most oils. This is the case in a small number of lubricants such as those containing Molybdenum Disulphide which will settle on standing and consequently cannot be cleaned in the oil centrifuge. The molybdenum, being a heavier metal will be removed.

The centrifuge comes in many models and is adaptable to most sized diesel engines. It is a highly regarded device sought by many engine OEM's. Caterpillar, Mack, Cummins, MTU and Scania all use and/or supply them for their equipment and large Wartzilla engines have centrifuges fitted as standard. Most engine oil filters are rated at around 30 um which is about half the size of a fine hair. Any particle smaller than 30um will consequently stay in circulation causing gouging and wear on components as it is carried around the system as it operates. Soot particles are likened to dust and usually run around 0.5 to 2um in size. Their abrasive ability is likened to dust and they consequently cause higher wear rates. The centrifuge is well known to constantly remove soot particles and hence reduce wear.
Centrifuges are available in many sizes to fit all different sized engines. See the following guide:
| | | | | | |
| --- | --- | --- | --- | --- | --- |
| Model | Flow Rate | Engine Sumps | Dirt Holding Capacity | | |
| | Ltrs/min | Gals/min | Litres | Gallons | Kg |
| OS020 | 2.5 | 0.5 | 3 | 2 | 0.2 |
| OS030 | 6 | 1.5 | 20 | 5 | 0.3 |
| OS060 | 10 | 2.5 | 50 | 12 | 0.6 |
| OS100 | 15 | 3.5 | 70 | 17 | 1 |
| OS200 | 20 | 5.0 | 100 | 30 | 2 |
| OS400 | 50 | 13 | 140 | 35 | 4 |
| OS600 | 70 | 25 | 180+ | 40+ | 6 |
Oil Centrifuge Filtration Benefits
An oil centrifuge is driven by the machine's oil pressure. Consequently they work while your machinery is in operation. This means no down time.
They can clean all types of oil including engine, hydraulic, transformer, heavy gear, and diesel fuel.
Centrifuges are incorporated into our Lubemaster equipment, making them completely portable allowing you to move them with different machines as required.
When used in conjunction with vacuum dehydration filtration systems, they can remove all types of gas and water from the lubricant.
They have no need of replacement elements.
They inhibit acid build up thus reducing lubricant degradation and depletion of additives – greatly extending service life.
Lubemaster Centrifuge Oil Cleaning System
Our innovative portable oil centrifuge, the Lubemaster, comes in a range of models with flow rates extending from 10-70 litres of oil per minute.

When operated in conjunction with a comprehensive oil analysis program, it is possible to achieve indefinite oil drain on clean burning engines using today's low sulphur diesels.
This is conditional on:
Particle levels of the lubricant being kept low within limits
Viscosity is maintained in grade
TBN remains within limits
Diesel dilution constantly being kept in check
Sodium levels constantly monitored
What about the effect of Exhaust Gas Recirculation systems (EGR)?
To accommodate this system, the industry had to double the soot carrying capacity of engine oil to enable it to accommodate the extra particle carried in circulation due to the increased contamination created by the addition of the EGR system. Why would we want to increase the soot carrying ability of the oil when the centrifuge will constantly remove these particles as the engine operates? COS have the oil solution for your engine and all your filtration needs.

Please click here to contact us to discuss our low cost options to reducing oil contamination and extending your oil life.

How Does a Centrifuge Work
Clean Oil Services centrifuges are designed to create centrifugal forces within a high speed spinning rotor which is driven by oil being delivered under pressure and ejected out through two jets, which causes the rotor to spin at very high speeds.
We rely on the contaminating product having a higher density than the oil itself hence the contamination is forced, under gravity, to migrate toward the outer perimeter of the rotor where it is trapped.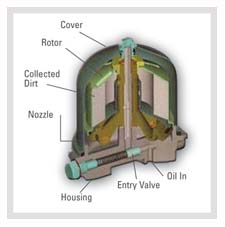 The return path of the oil is toward the centre of rotation, hence for the particle to return with the fluid, it would have to migrate against the gravitational forces in the rotor. This cannot happen as the particle is more dense than the oil so is forced outwards to stay at the rotor wall. Some say that the gravitational forces can reach 2000 time gravity within the rotor.
With periodic servicing the rotor is removed, cleaned and reassembled for continued service – no replacement costs and only 4 moving parts.
Normal oil filters usually have given sized holes in their mesh and will only remove particles from the oil stream which will not fit through the hole and then, under heavily contaminated flows, the particles can build up and block the filter, reducing flow until the filter goes into by-pass and doesn't filter at all. Centrifuges are not limited to a pore size hence will remove particles to sub micron levels and can only block if the rotor is filled with contamination.
Originally designed for use on diesel engines, the oil driven centrifuge is a well a proven option which has been in service for over 40 years. Clean Oil Services have custom designed centrifugal oil filter systems to adopt to a wide range of applications other than engines including gear and hydraulic oil cleaning.
The idea is to remove contamination from used oils to restore them to cleaner than new condition thus eliminating replacement elements, reducing lubricant purchases and waste disposal costs – all without shutting machines down and without costly elements.
When changing oil in a hydraulic system, normally only about 60% of the oil is drained, the rest is held up in rams, plumbing etc which is holding back contamination. So by cleaning the oil with a Clean Oil Services oil cleaning centrifuge, and activating the hydraulic circuit periodically whilst dilating, the system is cleaned to a level cleaner than can be achieved with draining the oil.
Due to the centrifugal motion, the centrifuge, working on density, will remove contamination particles to sub micron levels which allows the option to cleanse the oil in preference to change. The result is cleaning the oil to cleaner than new condition, without having any effect on the additive package and also cleaning the internals of the machine.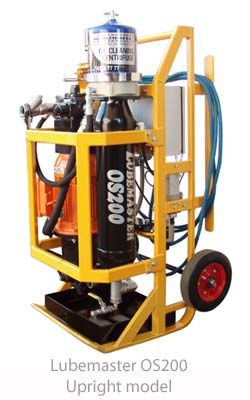 Clean Oil Services have developed the Lubemaster range of oil cleaning equipment which utilises the centrifuge on a vacuum chamber for water removal. Being fully portable the Lubemaster's allow live filtering and are available in 240 and 415, 220 and 480 volt models.
Lubemaster is fitted with a Gyrotary pump to handle high viscosity oils and heavy contamination. Centrifuges have been adopted to work on all oils from hydraulic to heavy gear oils.
Sizes range from the small 020 with 200 grams dirt holding capacity and 3 lpm flow to the large OS600 with 6 kg dirt holding capacity and 70 lpm flow.
For mobile plant, just plug in the 2 breakaways and switch the unit onto dilate whilst the unit is being serviced, or for fixed plant, plug it in and dilate whilst the equipment operates.
Oil Cleaning Centrifuge
For applications on engines, Clean Oil Services can design and select from a wide range of centrifuge with capacities to fit almost any application for permanent installation.
You will at least double and in most cases triple your engine oil life.
As a maintenance manager you should seriously consider the use of the oil cleaning centrifuge to not only save big bucks but add longevity to your machinery maintaining cleaner operating integrity of the oil in your compartments – it really does make economic sense and the environment loves it.
Model

Approximate Recommended Oil Sump

Dirt Holding Capacity

Litres

Gallons

Kg

OS020

From 5 to 12

1 to 2.5

0.2

OS030

From 12 to 25

2.5 to 5

0.3

OS060

From 25 to 50

5 to 10

0.6

OS100

From 50 to 80

10 to 20

1

OS200

From 80 to 150

20 to 35

2

OS400

From 150 to 250

35 to 60

4

OS600

From 250+

60+

6
The Centrifuge is a high precision assembly that uses oil pressure to drive the rotor at up to 7000rpm. This high speed rotation creates strong centrifugal forces (up to 2000 times gravity) and it is this force that allows the centrifuge to do it's job. The contaminates with a higher density than oil get thrown to the outside of the case where they stick to the wall for easy removal later.
Centrifuge Servicing
Servicing your centrifuge is simplicity in its self but you still need to take care not to damage this precision piece of equipment.
The other great thing is that they require no replacement parts.
This is meant as a brief description of how to clean your centrifuge not a technical manual.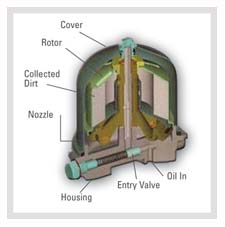 Remove the nut from the top and remove the cover.
Lift the rotor from the shaft and be mindful that there will be some oil in there. Be careful with the rotor as it has bushes on both ends so they don't get damaged.
Unscrew the rotor nut, remove the rotor cover and deflector.
Once open you should see dirt sticking to the rotor cover. Remove the dirt and clean all parts thoroughly.
Assembly is a reverse of the above instructions, taking care to line up location marks where applicable.
Sit back with a cold beverage and admire your work!