Date: Tuesday, September 17, 2019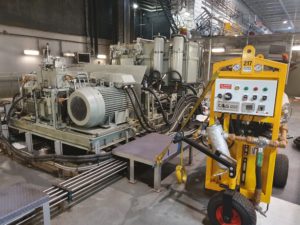 Standard filters on your hydraulic system are meant to remove contamination and protect the componentry from wear and damage caused by dust and metal particle contamination. However, while these filters do afford some protection, they are not enough. Contamination is constantly bombarding the hydraulic system and the standard filters do not remove the contamination sufficiently to keep the oil in the pristine condition necessary to extend the component life and prevent breakdowns and downtime. Oil contamination can be through water ingress, metal or dirt particle and over time can cause severe wear throughout the entire system and cause spools to stick and become sluggish. Even new hydraulic oil can be dirty and a source of contamination.
Recently we completed an annual service on Lubemaster Oil Filtration units that we supplied to a major customer to clean the oil in their 50 tonne hydraulic lifts in a marine application. Since the Lubemasters have been in service, the maintenance issues have reduced, and availability increased.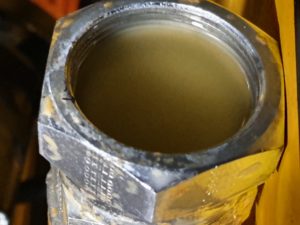 The contamination was clearly evident when we opened the machine for service, with water and dirt contaminants visible in high levels.
We serviced the Lubemaster and removed the cover from the centrifuge to inspect the centrifuge rotor where all the particle contamination collects as it is flung from the oil at high speeds. The rotor was covered with a layer of dark sludge and clearly demonstrates the amount of contamination left behind by the standard hydraulic filters.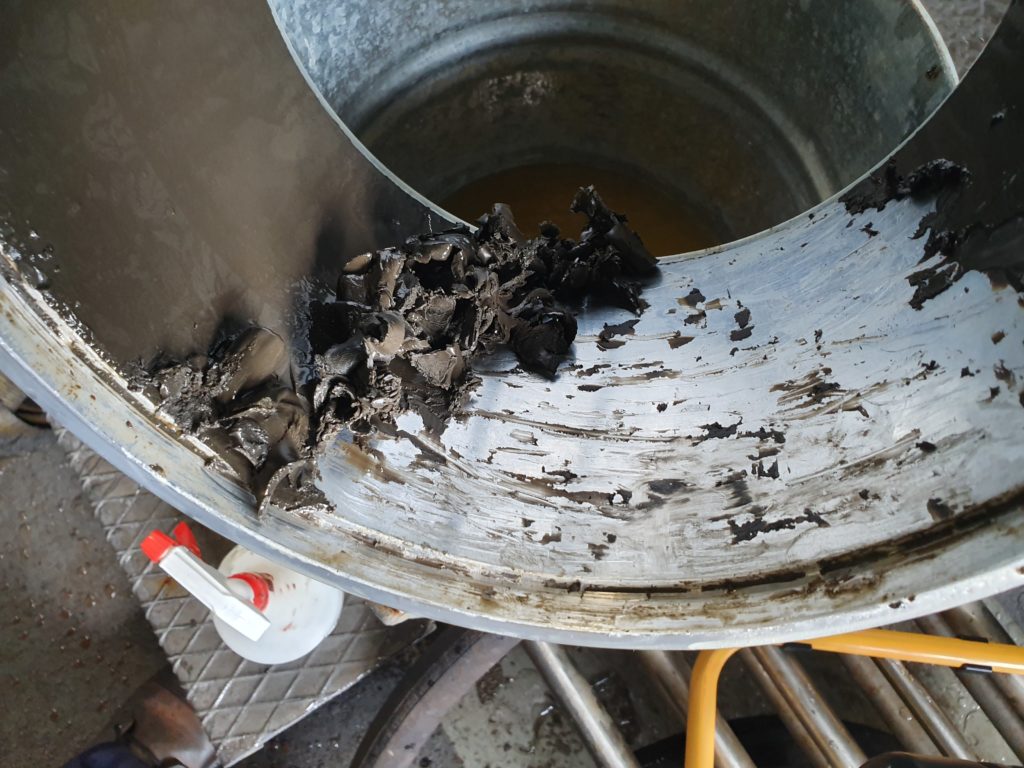 The rotor was covered with a layer of dark sludge and clearly demonstrates the amount of contamination left behind by the standard hydraulic filters.
The contamination appears as a dry sludge due to a process of build-up. This sludge adheres to the inside of the hydraulic system, directly affecting the reliability and efficiency of the hydraulic system. The standard hydraulic filters did not remove this type of contamination due to the microscopic size which is smaller than the pore size of the filters. Using the Lubemaster Oil Cleaning unit to filter the oil while the system continues operation makes it possible to clean this sludge from within the hydraulics as the kidney loop system flushes the oil throughout the entire system, removing particles to sub-micron sizes. It also removes water using vacuum dehydration. The oil remains in perfect operating condition and oil hours can be extended to achieve considerable savings on new oil purchases and disposal of used oil.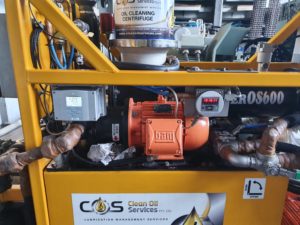 After running the Lubemaster overnight, the water reduced to 24ppm and particle count had dropped from a high of 24/21/19 to 20/18/15 and was continuing to drop. Targeted oil cleanliness will be expected to come below 16/14/10.
With our Lubemaster oil cleaning system, this is all achieved without the use of any replacement elements or consumables except electricity.
If you would like further information on how to keep your hydraulic system operating in optimal conditions and extending your oil drain intervals, we would be happy to advise you.
Category: Oil Cleaning