Date: Thursday, May 30, 2013
A local quarry came to us for assistance after their crusher suffered a catastrophic failure which resulted in a very expensive ($500,000) rebuild. The crusher is a critical part of their plant which breaks the rocks down into 3 different sizes of aggregate. When the crusher is out of action, the quarry stops production completely so an ongoing proactive preventative maintenance strategy was required to prevent further unplanned downtime, and preventable costly repairs.
We commenced a scheduled oil sampling program to determine and monitor the wear and contamination levels in the lube system after the rebuild. On the 1st round of samples, high residual levels of wear particles and failure debris were found, despite traditional cleaning methods being thoroughly utilised throughout the rebuild process.
This problem was rectified by running a Lubemaster OS600 Oil Filtration Unit on the system to completely clean any residual particle and moisture from the entire system while the system remained in operation. This effectively cleans the whole compartment, as all of the oil flows through the Lubemaster and the system is agitated as the equipment operates.
To maintain the oil cleanliness levels we custom-built and attached a permanent centrifuge oil filtration assembly to each of the lube systems (3) which continually filter the oil and keep it in pristine operating condition by removing any particulate contamination while ever the crusher is working.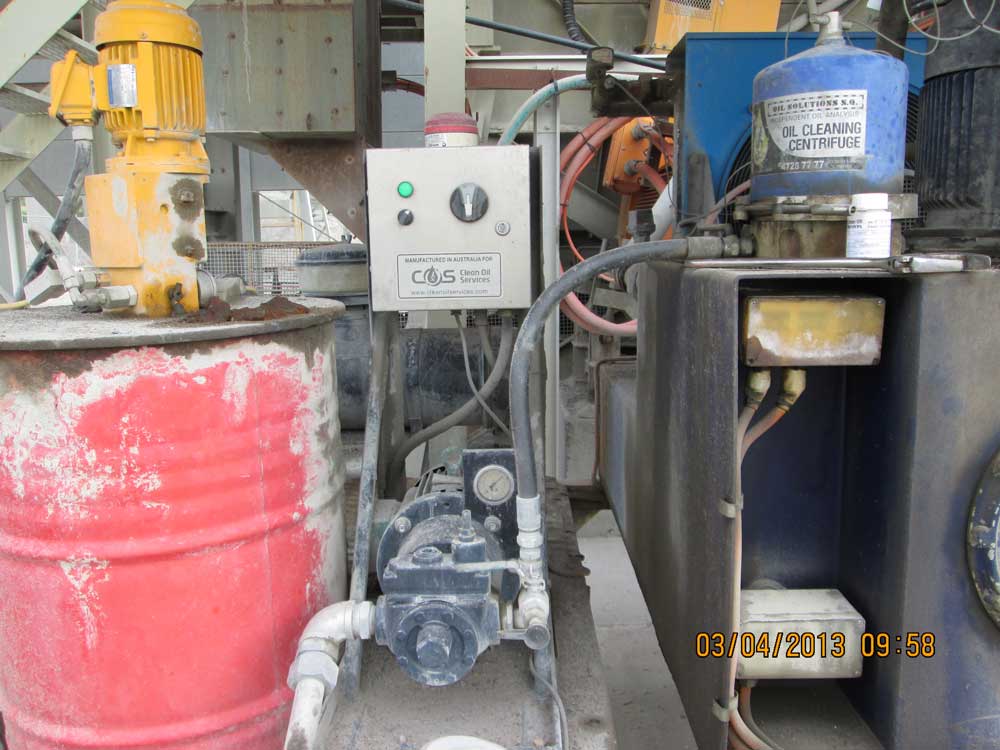 Rexroth system with OS060 Centrifuge fitted, driven by auxiliary pump
The oil sampling and analysis continues on a monthly basis to check that peak condition is maintained. This is conducted promptly after the monthly programmed maintenance has been completed and on one occasion identified elevated wear particles that indicated the thrust bearings were overloaded. As this was one of the areas worked on just prior to sampling, it was investigated and found to be over adjusted. Had this not been identified by the oil analysis, failure would have been imminent with repair costs estimated at over $100,000. Significant loss of production due to the down time would also have resulted.
As an additional benefit, oil change intervals are now determined by oil condition, and not by a set number of hours. This has provided substantial savings in gear oil purchases, but confidence in performance of the oil is maintained by regular oil sampling.
The management and maintenance staff at the quarry now have confidence that the plant is operating at optimum levels and no further unplanned breakdowns have occurred.
The following note of thanks was sent by the Quarry Manager (name withheld by request)
"Since we have gone down the road of using your company, setting up regular oil sampling with analysis, and having installed the centrifuge cleaning systems to our crushers, the outcomes speak for themselves. This has finally given me confidence that we can now follow the trends and act before we endure costly equipment rebuilds that have taken place in the past. I want to take the time to thank you and your people for your efforts in helping us toward getting a very important part of our preventative maintenance under control. We look forward to an ongoing working relationship between our Quarry, and Clean Oil Services."
Category: Oil Cleaning